Prophets, Prophecy

and the Narrow Way

From the Gospel of John;

14:5 Thomas said unto him, Lord, we know not where you go; and how can we know the way?

14:6 Jesus said unto him, I am the

way, the truth, and the life:

no man comes unto the Father, but by Me.

From the fall of 94, (SEATTLE subchapter The Storm and the Secrets )

while at a lake up in the mountains in response to a question I asked;

"And the weather, and the price will be very high."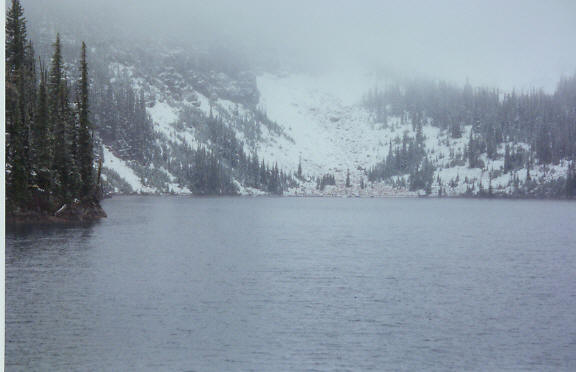 From Matthew;16:24 Then said Jesus unto his disciples, If any man will come after me, let him

deny himself, and take up his cross, and follow me. 25 For whosoever will save his life shall

lose it: and whosoever will lose his life for my sake shall find it. 26 For what does a man

profit, if he shall gain the whole world, and lose his own soul? or what shall a man give in

exchange for his soul? 27 For the Son of man shall come in the glory of his Father with his

angels; and then he shall reward every man according to his works.

Not by a Prophet or by the knowledge of prophecy but by Yeshua the Christ,

Life and the Greatest Love Affair . So many want to follow a person instead

of following our Savior. Or they complain about a prophet because they point out the

errors of our ways. They are many times rejected especially by those in authority

because they may feel threatened by them, and want the people to focus on themselves.

Also, to make a change in your life is not easy, for many are set in their ways, and have

stiff necks, which I can relate to. From Isaiah;

55:6 Seek the LORD while he may be found, call upon him while he is near:

55:7 Let the wicked forsake his way, and the unrighteous man his thoughts: and let him return

unto the LORD, and he will have mercy upon him; and to our God, for he will abundantly pardon.

55:8 For my thoughts are not your thoughts, neither are your ways My ways, says the LORD.

55:9 For as the heavens are higher than the earth, so are My ways higher than your ways, and

My thoughts than your thoughts.

We have wanted to go our own way instead of obeying the Lord, our Creator. 1st Samuel;

15:22 And Samuel said, Hath the LORD as great delight in burnt offerings and sacrifices, as in

obeying the voice of the LORD? Behold, to obey is better than sacrifice, and to hearken

than the fat of rams.

From John; 14:15 If you love me, keep my commandments. Then from the Gospel of Luke;

22:19 And he took bread, and gave thanks, and broke it, and gave unto them, saying, This is

my body which is given for you: this do in remembrance of me.

The Holy Eucharist in Scripture, Miracles and Prophecy

In place of sacrifice you can put in worship service, folks are making up new ones everyday.

I have asked a few preachers if they had studied the early church, the first 3 centuries, no.

If you don't know what the Apostles started and taught from Jesus, how do you pretend to

know what Jesus wants today? Submission to the will of God is our main objective in life.

From Matthew; 26:39 And he went a little further, and fell on his face, and prayed, saying, O my

Father, if it be possible, let this cup pass from me:

nevertheless not as I will, but as thou wills.

26:42 He went away again the second time, and prayed, saying, O my Father, if this cup may

not pass away from me, except I drink it,

thy will be done.

Everything comes from YAHWEH

All power comes from our Almighty Father, even the devils power comes from God.

Rev.; 2:26 And he that overcomes, and keeps my works unto the end, to him will I give power

over the nations: 2:27 And he shall rule them with a rod of iron; as the vessels of a potter

shall they be broken to shivers:

even as I received of my Father.

The Trials

God tries all people whether you believe in Him or not. One of my favorite passages

in the bible that I can really relate to is from Jeremiah;

20:7 O LORD, thou hast deceived me, and I was deceived: thou art stronger than I, and hast

prevailed: I am in derision daily, every one mocks me.

But as I was told in the beginning of the awakening, "The price will be very high.". Then

later while I was receiving from the Almighty Father He said simply, "I warned you.". So

he has not lied to me but the teacher/tormenter does plenty. When there is a

confrontation with the teacher I many times think of Jehanne la Pucelle, Joan the maid,

or Joan of Arc, and look at or think of this mural of her.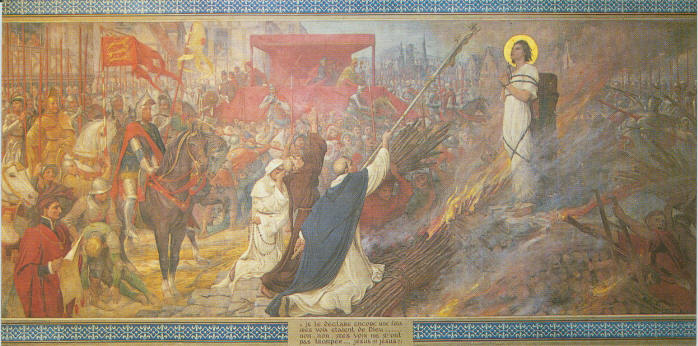 My trials are nothing compared to what she went through. Though if I make it to the end there are

some big trials waiting for me. So while I am not happy that the prophecy from Fatima;

2007 prophecy, from Fatima Portugal, July 11,2004 , which hasn't been fulfilled

exactly as I said though it can still fulfill what is written. When I prayed it has always been for the

Prophecy to be fulfilled according to

God's will because it is His prophecy (8.7)

from the BOOK OF REVELATION and there is a warning that I take very seriously;

22:18 For I testify unto every man that hears the words of the prophecy of this book, If any man shall

add unto these things, God shall add unto him the plagues that are written in this book:

22:19 And if any man shall take away from the words of the book of this prophecy, God shall take away

his part out of the book of life, and out of the holy city, and from the things which are written in this book.

It is not fun, many have a very poor understanding of the Bible and especially the Old Testament.

These 2 chapters deal more with the trials;

Wrestling with the Angels 5/3/07

Dealing with Yahweh 5/8/07

One time a female evil spirit said to me; " I want to kill you.", I told her to; "Well, take a number

and get in line.".

Dealing with the truth

Speaking the truth in deceitful times is a revolutionary act. George Orwell

This is what the people don't want to hear, the truth, as a popular song of these

times goes, 'lie to me". As in times past the people have strayed from God and

He has dealt with it in one way or another. Like Noah's flood, a range of problems

for Israel from drought to occupation and banishment from their land. We are on

the verge of a great purification and that means a huge population reduction. The

prophets of old warned of the sins of their day which are the same basically as the

sins we have today. Many religious leaders hide behind the verse in the Bible,

judge not and you will not be judged, but to tell the truth is not to judge someone it

is simply telling the truth, like 2+2=4 not whatever you say it is. When I said this to

my Pastor to show me where he got his numbers from, for a building project, that

appeared to be a fabrication, he simply said that it was, "his truth", which is sadly,

his lie. If you look the other way when your brother or sister sins then God may

hold you liable also for the sin. I am not talking about minor problems, or a

"splinter", as Jesus says but a major offense. Like raping and abusing children,

or taking from the weak, the young and the poor. While you take photos of them

and make sure people think you are doing something for them, here is a chapter

which lays out what I call the "glossy brochure ". This is in reference to the

"white sepulchers" comment Jesus made to the leaders of His day. Now it is the

glossy brochure with more talk and pictures than substance and a lot of secrecy

about what is really going on. A quote from a Pastor about his secret meetings;

"They are not secret, they are closed", satan works in the darkness for he can

not stand the light.

Welcome to the County Club and the Luke Warm Church

As I walk farther along the trail the narrower it gets as I am pruned more and more

and I learn more so I can not pretend to be ignorant and must push on to the end.

Yahweh told the truth when He spoke and gave me what I was asking for, which

is written in the Bible and from the visions of Sr. Anne Catherine Emmerick .

I never get long statements it is always short and to the point and His true statement

was; " I warned you. ".